Grafoid Inc.
Grafoid is a complete solutions graphene company. It provides expertise as well as product and processes for transformative, industrial-scale graphene applications in partnership with leading corporations and institutions around the world.
Grafoid invests in graphene applications and economically scalable production processes for graphene and graphene derivatives from raw, unprocessed graphite ore. Focus Graphite Inc. holds a significant interest in Grafoid Inc.
Grafoid has become the world's largest producer of high-purity, economically scalable few-layer graphene, trademarked globally as Mesograf™ and produces graphene oxide in bulk from a safe, low-cost process.
An overview of the Grafoid's global industrial platform and related developments can be found at www.grafoid.com

The Grafoid Foundation
The Grafoid Foundation is Canada's first independently operated, not-for-profit graphene technologies institute. The Foundation's mission is to promote and support graphene and graphite technology development from concept to commercialization and, to serve as a conduit to innovation.
By creating a long-term development platform for new graphene-related enterprises, the Foundation aims to spawn demand for highly skilled and qualified technical staff, technical suppliers and novel services.
The Foundation aims to create Canada's first private/public sector graphene cluster in partnership with the federal and provincial governments, other graphene enterprises, universities and established technology companies.
Ultimately, the Foundation aspires to bridge Canada's government-corporate funding gap in bringing novel graphene and carbon-related technologies to market.






Nanomagnetics Instruments is a pioneering company at high resolution surface imaging. Our microscopes measure physical properties of surface which are polymers, metals, ceramics, semi-conductors, biological samples, thin films and coatings. we have physical measurement device; magnetics and electrical properties. They works different environmental conditions as high and cryogenic temperature, liquids.




Xerox Research Centre of Canada (XRCC) is the global materials research and development centre for Xerox Corporation and we have a 40 year history of taking materials from concept to market in a highly competitive technology environment.  XRCC is a pioneer in the design, scale-up, and supply of electronic and specialty materials. We offer products with industry benchmark performance backed by our brand and our history of materials commercialization success.  We offer silver nanoparticle inks, semiconducting polymers, printable organic dielectric materials, and more. Engage us to develop a specialized electronic material or formulation for your application. Thinking about exploring printed electronics to expand your business? We can provide proof of concept testing and performance evaluation that connects material properties with functional requirements.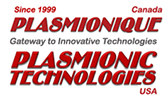 PLASMIONIQUE Inc in Canada and its affiliate PLASMIONIC Technologies in USA are specialized in development of Innovative systems and processes used for applications to Thin Film processing, Nanostructured Material Synthesis and Advanced Surface Engineering using Plasma-, Laser- and Vacuum-based technologies. The company is specialized in design and integration of customized systems in addition to several standard products, including MAGNION series PVD systems, GLAZE series PLD systems, FLARION Series PECVD / RIE reactors and PLUME series remote plasma / ion sources. The company also offers FLOTEST series test stations for development of sensors and fuel stations. Since 1999, the company scientists have been involved with development of dedicated systems and processes for synthesis of various nanostructured carbon allotropes.




Renishaw's inVia Raman microscope has been used in breakthrough graphene research.
Renishaw is one of the world's leading engineering and scientific technology companies, with expertise in precision measurement and healthcare. The company supplies products and services used in applications as diverse as jet engine and wind turbine manufacture, through to dentistry and brain surgery. It is also a world leader in the field of additive manufacturing (also referred to as metal 3D printing), where it is the only UK business that designs and makes industrial machines which 'print' parts from metal powder.
The Renishaw Group currently has more than 70 offices in 32 countries, with around 4,000 employees worldwide. Around 2,600 people are employed within the UK where the company carries out the majority of its research and development and its manufacturing.
Renishaw is a recognised leader in Raman spectroscopy. It has a team of over 100 scientists and engineers specialising in the production of fully configurable Raman systems. Our systems offer the highest levels of flexibility and performance. Customers worldwide rely upon them to provide superior information across a diverse range of fields and applications.




ICFO-The Institute of Photonic Sciences was created in 2002 by the government of Catalonia and the Technical University of Catalonia as a centre of research excellence devoted to the science and technologies of light. The institute is at the forefront of research on graphene and related 2D-materials, proactively translating new knowledge into new science as well as prototype demonstrators such as imaging systems and wearables. We operate in collaboration with industrial allies and aim to apply graphene as a viable alternative to conventional photonic and opto-electronic systems. ICFO Prof. Frank Koppens co-leads the Optoelectronics work-package within the Graphene Flagship.


Raith is a leading precision technology manufacturer for focused ion beam (FIB) nanofabrication, electron beam lithography (EBL), nanoengineering, and reverse engineering. With sub-10 nm patterning performance, our instruments are enabling researchers in both academic and industry environments to continuously advance their applications in applied nanotechnological research and areas of industry that use nanotechnology for product applications or produce components from compound semiconductors




Thermtest has been advancing the measurement of thermal conductivity, thermal diffusivity and specific heat for 10 years. Our unique combination of advanced laboratory thermal conductivity instrumentation, portable meters and corresponding accessories, enable us to offer testing solutions to fit most any type of sample, testing application or budget. Our highest priority is placed on matching the best testing solution to the application. Simply put, we are everything thermal conductivity. Graphene has been identified as one of the most thermal conductive materials presently known and thus requires a powerful characterization instrument to determine its thermophysical properties. For this purpose, Thermtest offers the Hot Disk Transient Plane Source (TPS) Instrument for testing of highly conductive materials.